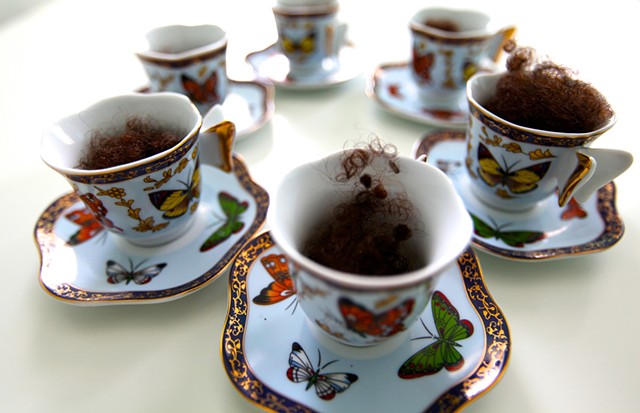 Leslie Jiménez is an artist based in New York. Graduated from the prestigious school of design, Altos de Chavón, in the Dominican Republic and earned a competitive scholarship to continue her training at Parsons, The New School of Design, in New York City, from which she graduated with honors. Leslie has been frequently featured in diverse venues ranging from art fairs, galleries in uptown and downtown Manhattan to institutions of higher education and research such as Scope (Contemporary Art Fair) the Dominican Studies Institute at City College of New York, CUNY in The Heights, Rutgers University, and Parsons The New School.
Leslie's work delves into issues of ethnic liminality; the social and cultural clash between internally-embraced and externally-imposed interpretations of the self, as it pertains to race, ethnic identity and the connection with preconceived notions of what girlhood, womanhood, and motherhood "should be like".
The artist declares "I believe in challenging our traditions for a better understanding of our history and personal story. I'm interested in understanding the way imposed standards of beauty and behavioral patterns encourage self-denial, internalized racism, and the tendency to diminish the sense of self in young girls. These cultural tendencies influence the way boys and men expect girls and women to be and behave."
The thought-provoking questions raised through a variety of media, paintings, drawings, embroidery, sculptures and installations go beyond an original standpoint. Aiming to connect and transcend to the intimate self of the viewer.
*NEXT CLICK ON EACH IMAGE TO SEE THE ARTWORK*